LUDWIG BEAR
FEATURING BEETHOVEN'S GREATEST HITS
ludwig bear is a premium quality plush bear playing Beethoven's most well-known and loved compositions. with 40 minutes of music recordings, the bear is a wonderful, fun introduction to classical music for newborns, kids & adults. made of a super soft plush, he comes with a short composer's biography tucked inside his inner pocket. the music recordings can be switched and the volume easily controlled. safe for children 0+ years of age.
♡ plays 40 minutes of high-quality recordings
♡ volume-control
♡ makes a perfect baby-shower gift
♡ washable
♡ recommended for ages 0+
38 cm tall (standing)
"My kids are 15 and 12 years old, so they may not be the exact targeted audience for Ludwig.... but they absolutely love him! They've been fighting over him ever since he arrived, and yes, they're constantly pressing his tummy to play the music. I once caught my son (the 12 year old) napping with Ludwig tucked in his arms, music on. I get that Ludwig may have been designed as an educational toy for babies, but my point is that those specs can fly out the window because he's just adorable, and older kids and even adults will get a kick out of him. Ludwig is a great addition to any home, especially for those who appreciate music. I'm actually thinking of getting Ludwig and/or Amadeus for my father, who is a professional violinist." - Taku
complete, high-quality recordings
with seven tracks featuring Beethoven's most well-loved compositions, ludwig contains close to 40 minutes of high-quality, professionally recorded music.
easy operation
all functions with one button:
turn music device off/on

control volume

change tracks
device is safely concealed in an interior pocket.
easy to clean
Ludwig is washable! when necessary, remove the music device and hand-wash the plush bear.
meet the composer
tucked into ludwig' music pocket is a short Beethoven's autobiography. charmingly written in first person, it shares a brief history of the composer's life as well as the title of each musical selection.
little virtuoso club #virtuoso bears
Ludwig van Beethoven (1770-1827) : one of the most influential virtuosos of all time. despite his struggle with deafness, he created numerous mesmerizing compositions. his music has inspired generations of composers and remains loved by people of all ages around the globe.
this plush bear's musical device includes high-quality, full-length professional recordings of the following: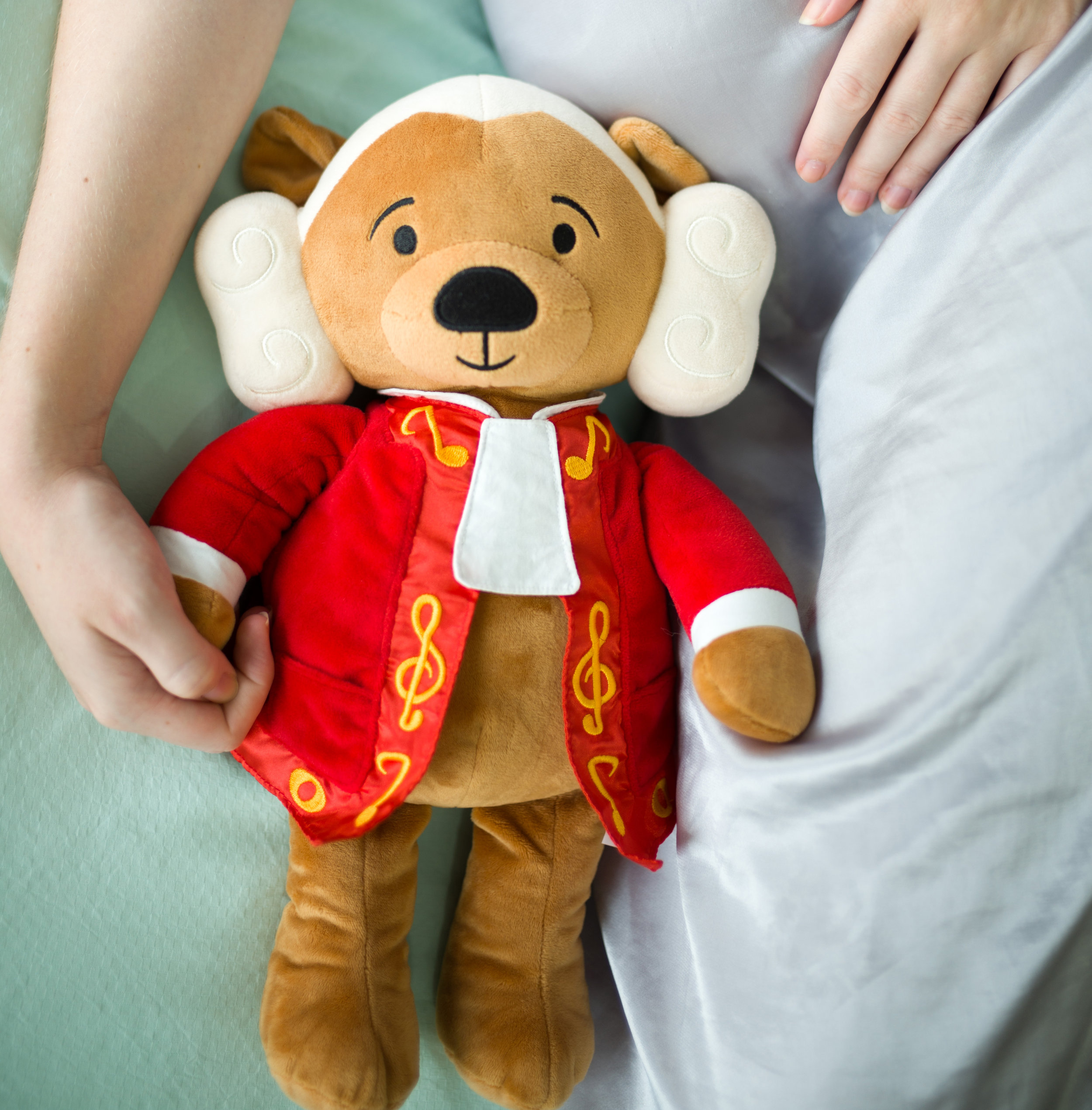 featuring Mozart's greatest hits